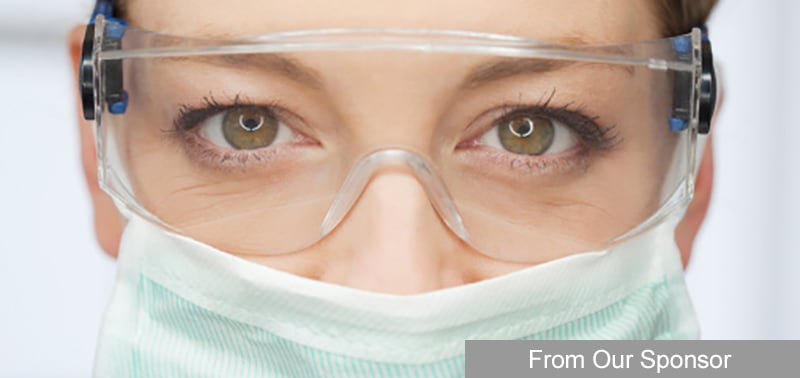 Oral health care isn't delivered magically or telepathically. It is based on outcomes and science, delivered by people who form one of the most unique structures in American society – close-contact health care in a small-practice setting, from a team of educated and dedicated health care workers, in a business environment where continued success means not only short-term improved clinical results, but delivers sustainable innovation and new technologies that enable long-term enrichment for caregivers and patients alike. This has been the model for centuries in dentistry – the dental team treats pain, improves function, and creates new esthetics, and the patients return time and time again because the experience is so rewarding and enriching.

However, since last March, this unbelievably successful model has been stretched and pulled and challenged and disrupted. Offices closed. Necessary care delayed. Safety of the setting questioned. And yet, through it all, this community carefully balanced the need for the safety of our society during a pandemic, with fulfilling its mission of providing health care.

Let's not forget the tremendous toll this pandemic exerted on victims and their families. But let's also take a moment to honor the response from the dental community – steadfast, heartfelt, intelligent and resilient.

As we look back on the many lessons COVID-19 taught us in preparing, responding and restoring dentistry, this pandemic has reinforced, many times over, the vital role dentistry serves in the health care continuum, especially as we make stronger scientific connections between oral health and overall health. We have seen the most devastating consequences of the pandemic on compromised patients of all ages and those with co-morbidities. In addition, we have also seen that our health is a connected system from head to toe, including our mental, emotional and physical health. The role of oral health care in this connected system is vital, and it was evident to health care, policymakers and the public.

This connection is perhaps one of the most significant positive outcomes for the dental profession – the stress and challenges to the oral health care system paved the way for a response which only reinforced the role that the dental team plays in community and individual health.

We are proud to serve as a partner to you in the oral health care community. Dentists and their teams showed up in the face of uncertain health risks to help protect patients and deliver emergency dental care during a time of unprecedented stress and ambiguity.

This same tenacity and dedication to duty was also demonstrated by the 7,000 team members in our organization who not only kept the dental supply chain open, but looked for new ways to fulfill shortages of needed supplies, including access to personal protective equipment. Even before dental offices closed, our teams helped dentists respond in the early stages of the pandemic and during those critical weeks before dental offices shuttered to non-emergency cases. Our field-based teams – practice consultants, service technicians, customer-facing managers remained available around the clock to help practices safely service and store dental office equipment, from compressors and suction devices, to CAD/CAM and other sensitive technologies.

While Patterson Dental closed offices and shifted to a work-from-home model, the company's fulfillment centers, managing some 80,000 SKUs, never closed, and Patterson Dental was shipping products throughout the pandemic. These critical and dedicated teammates continued to show up to our locations throughout North America, adhering to new and strict safety protocols, and ensured that our service levels to our customers remained steadfast. We serve up to 95% of our customers with 1-day order delivery, and we process more than 18,000 orders each day with 99% accuracy. This takes hard work, process rigor, and the dedication of our teammates, and all of this remain unchanged during even the most trying times last fall.

There was clearly an unprecedented surge in demand for PPE. Our teams worked closely with existing PPE manufacturers and conducted numerous regulatory screening of new suppliers to meet the new and unprecedented demand for gowns, face shields, gloves, masks and other critically necessary infection-control equipment. Items that were used by the hundreds before the pandemic were now being demanded by the millions. Again, having strong processes and teammates that live customer-centric values are vitally important to meeting these new challenges.

In the first few weeks of the pandemic, our initial thoughts were about the safety of our teammates, but also of our customer dentists, their team members, and their patients. Thankfully, our attention then quickly turned toward reopening and restoring access to dental care for those millions of Americans who have delayed care.

Dental practices have always been a safe place to receive care, largely due to the adoption of proven and strong infection-control practices. The profession quickly and readily adopted even stronger infection control protocols in the face of COVID-19, and I am convinced that all of these efforts have reinforced an already-strong culture of practice safety. It serves the profession well and has inspired confidence with patients returning to dental practices.

The pandemic showed us new ways of enhancing communication between the office and patient – from scheduling, treatment planning, diagnostics and follow-up care. I think we are seeing offices and caregivers communicating with patients in new and exciting ways.

What have we learned about this pandemic? The dental community, made up of dentists, dental hygienists and assistants, dental laboratories, dental office teams, educators, manufacturers, distributors and others, stepped up to continually promote the positive impact of regular oral health care on overall wellness.The profession has also shown its resilience and steadfast determination in protecting and safeguarding the health of the U.S. population.

Not only is this a noble purpose, but it also creates an exciting future for a dynamic and critically important segment of health care.

__________


Eric Shirley was named president of Patterson Dental in January 2019. He most recently served as chief commercial officer at Midmark, a leading provider of medical, dental and veterinary equipment, technology and services. In this role, Eric was responsible for driving revenue, marketing and operational efficiency within the company's dental, medical and animal health divisions. Prior to his time at Midmark, Eric held leadership positions at Dentsply International and several other dental manufacturers.