Winner - Remodel
Water Tower Dental Care
Chicago
by Jean Williams
Dr. Daniel Aneszko's dental practice got a new lease on life with perks – money for substantial upgrades – when he renewed a deal to rent his current space for another 15 years.
He had spent a decade practicing in the space and put a lot of thought into whether he should sign another lease for the space located in downtown Chicago at Water Tower Place, an iconic shopping mall and office complex in the city's Magnificent Mile.
After drawn out negotiations, his landlord sweetened the pot by promising to provide for long-needed renovations, if Dr. Aneszko would keep his practice, Water Tower Dental Care, in the space long term. "They gave me about $130,000 of leasehold improvements," Dr. Aneszko said.
He signed on the dotted line, so to speak, and applied the improvement resource so well that the posh outcome caught the eyes of voters in the ADA's second annual Design Innovation Awards. They voted Water Tower Dental Care the winner in the "remodel design category."
After he signed the deal in February 2020, Dr. Aneszko was ready and eager to refresh his space. Then chaos ensued – the COVID-19 pandemic. Dr. Aneszko rose to the challenge with vigor and ready foresight. "The timing was actually perfect because we were shut down for three months," he said. "That gave me time to do all the remodeling that I had to, knowing that we're shutting down because of COVID. So, I was able to implement design strategies to help mitigate any risks."
Part of the challenge in remodeling the space resided in the building's age. It was built in the 1970s, which meant such nagging issues as outdated HVAC structures needed to be updated. "I'd been complaining for years about the airflow in the office and the heaters were really poor," Dr. Aneszko said. "So, I had them replace all of the wall heaters [and] all of the ceiling VAV boxes that help increase the air circulation; and, we put HEPA filters in all of the rooms."
Water Tower Dental Care Image Gallery
Design and esthetics were important to create a space that my team and I would enjoy working in.
Dr. Aneszko
It's not every day that a dentist is tasked with considering how to outfit his space in terms of infection control as a deadly scourge vexes the globe. Dr. Aneszko approached the task based on prior knowledge from dentistry coupled with advisories from the Centers for Disease Control and Prevention.
"I was really cueing in on what the CDC was recommending, and I saw what was happening in Italy before it happened in the U.S. Their death tolls were so high," he said. "It's just such an infectious disease. I was watching these videos of dentists and [physicians] in Italy explaining what they were doing. I was like, we're better off being overprotective and cautious. I figured we could always relax if we needed to, but let's just be hyper-sterile in terms of our approach."
That approach led to such extra details as considering the role of fomites in the practice environment. "I had all the dental chairs reupholstered," Dr. Aneszko said, adding that he chose a less porous material. "I just wanted to make sure everything was going to be wipeable and cleanable."
Aside from being able to address COVID-19 specific infection control measures during the shutdown, Dr. Aneszko also got to tend to a few style flourishes in the 2,591-square-foot space that features seven operatories, a consultation room, a sterilization lab, two bathrooms, a lounge, a front office, private office and a mechanical room.
"Design and esthetics were important to create a space that my team and I would enjoy working in," Dr. Aneszko said. "We replaced old fluorescent ceiling lights throughout the entire office with energy-efficient LED lights, replaced carpet and flooring, added new wall coverings and paint along with new window treatments – solar blinds. An investment in two new dental chairs, along with five new X-ray arms was also part of the plan to better treat our patients with the latest technology."
Some of the trusted manufacturers and vendors that Dr. Aneszko tapped were A-dec for new dental chairs; KaVo Dental for new wall-mounted X-ray units; and Patterson Dental for other equipment.
Would you like to share this article?
SPONSORED CONTENT:
Inside the A-dec showroom
This interactive version of A-dec's Education Center offers a closer look at 3D operatories outfitted with A-dec equipment. Use the navigation tools on the left side to easily navigate to highlighted rooms, take a guided tour, view floor plans and more.
Water Tower Dental Care Before and After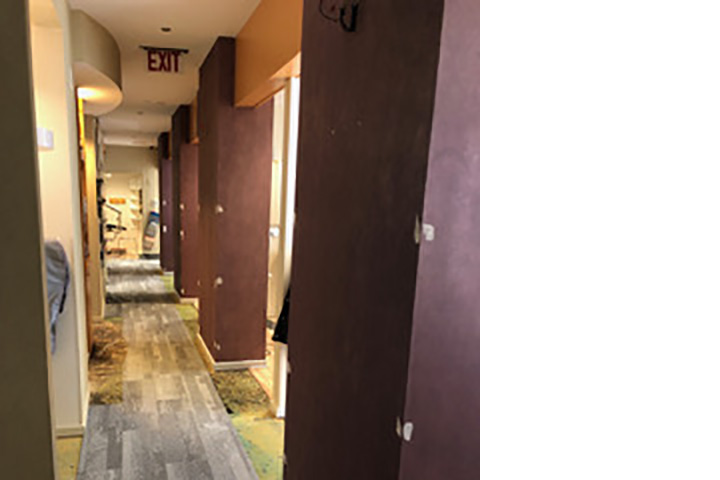 Other Award Winning Designs
All
New Build
Remodel
Bonus Webinar: 2019 Winners