Honorable Mention-Small New Build
Maine Dentistry
Portland, Maine
by Jean Williams
"Less is more" was the underpinning dictum as Benjamin Lawlor, D.D.S., built out his Portland, Maine, general dentistry practice.
His shrewdness in cultivating a minimalist vibe won him a sizable number of votes and favor — an honorable mention — among the seven finalists in the ADA's second annual Design Innovation Awards. Dr. Lawlor's Maine Dentistry competed in the "small, new build-out design" category.
Achieving all he wanted and needed was challenging with such a tight squeeze, as the space is but 1,000 square feet. The final buildout contains two operatories, a utility room, prep room, break room, restroom and reception area.
"Due to the tight confines of the office, we had to make the rooms as versatile as possible, soundproof all the walls and carefully plan the placement of every computer and piece of equipment," Dr. Lawlor said.
This entailed vertically placing the compressors and vacuum and strategically running wires through walls.
"Since I wanted the office to be a one-stop-shop for busy professionals, I had to create space for a CEREC scanner, mill and oven, a cone beam computed tomography system, implant motor, multiple instrument setups and an iTero scanner," Dr. Lawlor said.
Maine Dentistry Image Gallery
Just because space is at a premium in Dr. Lawlor's practice doesn't mean economical usage of square footage came at the expense of esthetics. "The goal was a sleek, modern-feeling dental office that maintained a high attention to detail but didn't feel too busy," he said. "In a world full of traditional dental office environments, we are striving for something novel, clean and fun."
Taking into consideration a less-is-more concept, Dr. Lawlor sought to evoke a serene environment that boasts cleanliness via greenery, patient-conscious floor planning and soothing colors, including a moss wall.
"The moss wall was unique, calming, easy to maintain and blended in seamlessly," Dr. Lawlor explained. "Textures were carefully planned to be stimulating, but not overwhelming. The tile floor has hints of rust and steel; the ceiling heights separate the two portions of the reception area; the reception desk is commanding yet friendly; and the 3-dimensional paneling on the rear wall piques one's curiosity that there are more delights in store.
"A velvet couch provided a splash of color, contrasted against the black and white modern oil painting while both provide a necessary level of texture," Dr. Lawlor said.
Dr. Lawlor had the forethought and vision to consider the street view, as well. He built a waterfall into a wall providing two-way viewing, natural noise cancellation and visibility from the street.
"I also wanted to capture the attention of people bustling by, so we had the Maine Dentistry logo recreated in bright mint green, lighted and placed in the window — easily seen from across the road," he said.
In his operatories, Dr. Lawlor provided such patient comforts as essential oils, a motorized 55-inch TV in the ceiling, leather A-dec chairs, and serene white/gray tones on floors and cabinetry. "The office is small but packs a powerful punch in delivering world-class patient care to the busy professional," Dr. Lawlor said.
Would you like to share this article?
Maine Dentistry Before and After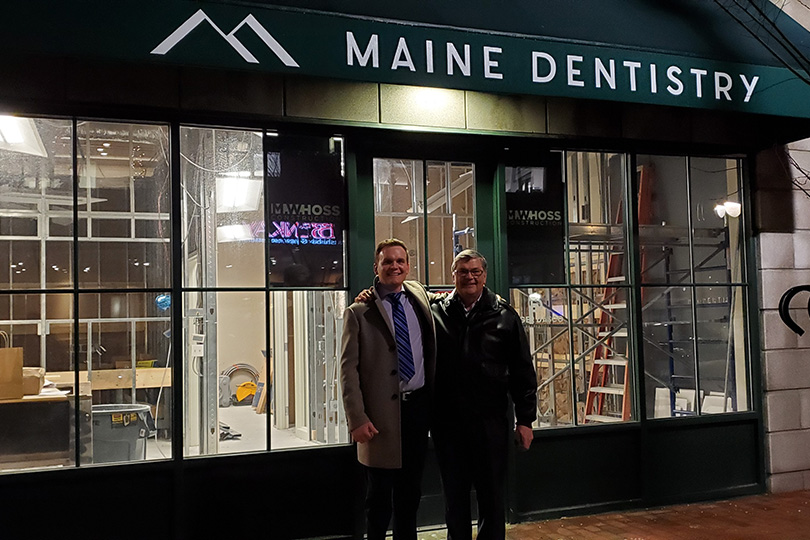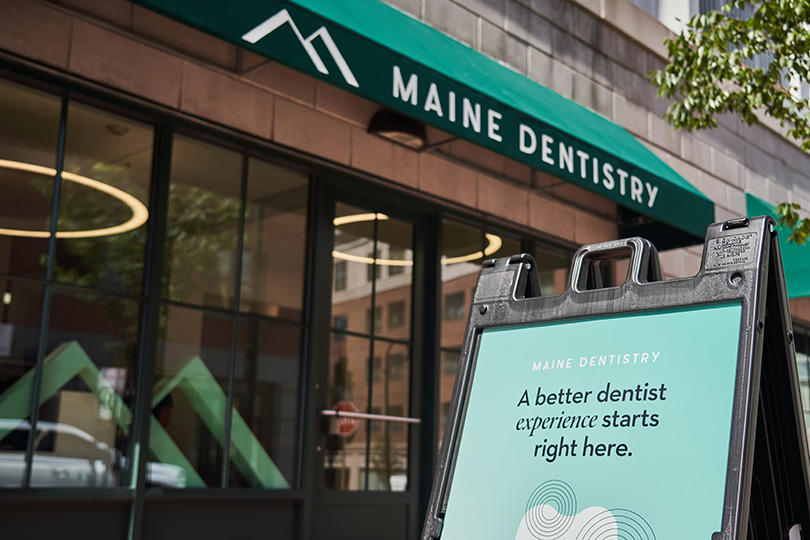 Other Award Winning Designs
All
New Build
Remodel
Bonus Webinar: 2019 Winners