Finalist - Remodel
Sugars End Dental
Ellijay, Ga.
by Jean Williams
When one of her patients said that she'd love to live in Dr. Kalee Coakley's office, it was proof that remodeling efforts hit the target at the Ellijay, Ga., dental practice.
"I didn't want it to feel clinical," Dr. Coakley said. "I didn't want it to feel sterile. I wanted it to feel homey. That, to me, also goes along with the small town. We're a mountain community. I wanted it to feel like a cottage."
Transforming the previously heavy and dark space to cheerful and bright was a year-plus journey that culminated in the summer of 2019. Not only has the makeover been a hit with patients, it also caught the eyes of voters in the ADA's second annual Design Innovation Awards competition. Dr. Coakley's Sugars End Dental — a 1,650 square-foot practice entered in the remodel design category — was among seven finalists.
The updated office features four operatories, a sterilization room/lab, reception area, waiting room, storage/equipment room, two bathrooms (one public and one private) and a private office. Dr. Coakley is the only full-time dentist. The previous owner also maintains a very limited part-time schedule at Sugars End. Other staff include a dental assistant, one full- and one part-time hygienist and two receptionists.
When she acquired the practice in August 2016, the building had a pretty stern and utilitarian style. "It was very dated," Dr. Coakley said. "It had like little valances over the windows. It was very '80s. It didn't feel like me at all."
The dreary look is what led Dr. Coakley to essentially seek an esthetic makeover for the building, which was built in 1936. It had been quite a workhorse over its history, apparently having served previously as several types of businesses — including an insurance agency — and maybe even a personal residence.
Sugars End Dental Image Gallery
Although Dr. Coakley's remodeling approach was mainly cosmetic, it necessitated a few upgrades to meet Americans with Disabilities Act requirements, including widening the main doorway and the public bathroom for wheelchair accessibility and adding a wheelchair access ramp outside. "The dentist who was here before didn't have to do it since he wasn't doing any remodeling," Dr. Coakley said. "But, if you do any remodeling, you have to bring it up to code."
Other structural changes involved raising the roof height and, "a wall was removed at the end of the hallway, which now extends to a second entrance to let in more light," Dr. Coakley said.
For the main look, Dr. Coakley had two esthetic goals in mind for the remodel—reflect both her personality and the town's personality. "I like hints of pink. Pink is a very calming color. … I wanted pink and black with a lot of natural wood — like my desk and some of the antique stuff is just natural wood," she said.
Additional complementary colors included teal, yellow and white. As for the town's influence, Dr. Coakley wanted, again, to capture a kind of quaint rural home. "It's the beginning of the Appalachian Trail," she said. "It's the start of the Blue Ridge Mountains. We have a lot of mountain biking. There are rivers and kayaking. There's a lot of tourism and people with second homes here, people who live in Atlanta and have cottages here."
To that end, she purchased furnishings and fixtures from local antique stores. "We have a lot of antique stores in the area," Dr. Coakley said. "My desk is from a local antique store. Our coffee bar is from an antique store. The mirror on the wall is from an antique store."
She also adorned the walls with art from area stores, from local artists and from her mother, a retired art teacher. The building's exterior also got a revival with creamy white paint over the formerly red brick.
The office shut its doors for nine weeks at the start of the COVID-19 pandemic. At that time, Dr. Coakley took precautionary measures with the practice environment. "We put air filters in every operatory and in the reception area. We put Plexiglas at the reception desk. I added more hooks in the hallway so I could change my lab coat. We have masks on tables in hallways. We have extra masks basically everywhere."
The need for social distancing and heightened infection control has temporarily put portions of the office out of commission. "Nobody waits in the waiting room," Dr. Coakley said. "So, my lovely chairs in my beautiful waiting room are unused. People wait in their cars."
At least, they can admire the new landscaping, also courtesy of the remodeling.
Would you like to share this article?
Sugars End Dental Before and After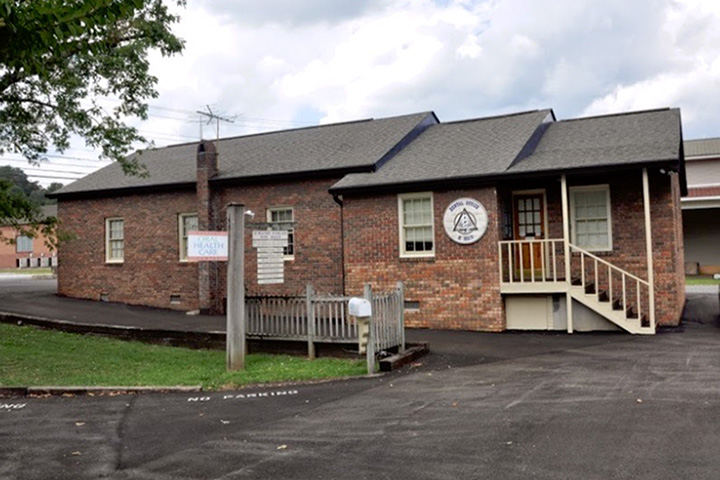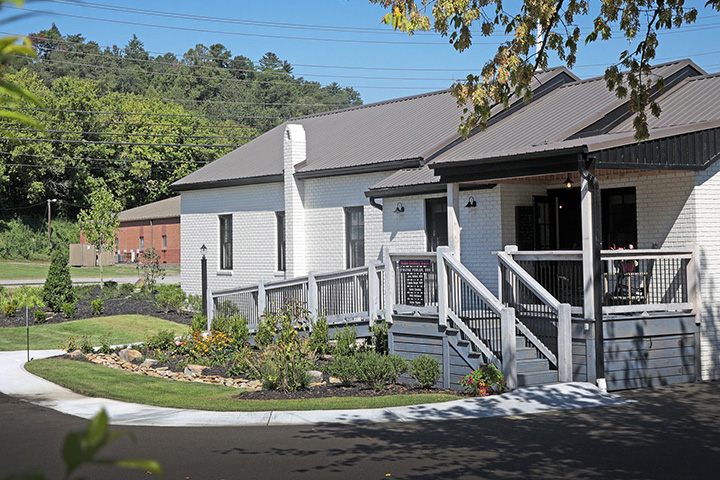 Other Award Winning Designs
All
New Build
Remodel
Bonus Webinar: 2019 Winners