Finalist - New Build
Camp Little Tooth
Lafayette, Colo.
by Jean Williams
A little camp goes a long way in Dr. Raelene Fulford's pediatric practice in Lafayette, Colo. It says so right there in the name — Camp Little Tooth.
The thematic private practice is designed to present its tiny patients with the notion of an outdoor camp adventure. There are summer field trips and other activities, too. The experiential concept, design and floor plan include a treehouse, canoes, cabins and a camp store to keep the little campers engaged and patient — and not focused on being patients.
"My background is theater, and I love to entertain and come up with fun ideas for kids," Dr. Fulford said. "I didn't just open a dental practice. I literally opened a camp."
Behind the fun and festivities, a thriving pediatric dental practice is laid out and includes four dental chairs ensconced inside replicas of canoes, two operatories, an imaging area, a reception area, a waiting room with an iPad station, a break room, a business office, a private office, a sterilization area, an equipment room and two restrooms.
The final outcome won over voters who made the practice one of seven finalists in the ADA's second annual Design Innovation Awards competition, where Dr. Fulford competed in the design category.
"The idea was to create a warm, cozy, inviting space to alleviate anxiety young children can have in the dental environment," Dr. Fulford said.
Evidently, she pinned the tail on the donkey because parents report that kids want to come back after leaving. "Several of my neighbors' kids come to Camp Little Tooth," Dr. Fulford said. "And one of my neighbors just came up to me and said, 'Raelene, I don't know what you're doing in your office, but randomly my children will say, 'Mom, can we go to Camp Little Tooth?'"
Camp Little Tooth Image Gallery
Dr. Fulford went to great lengths to accomplish this goal. From finding the right materials at a reasonable price to finding consultants, contractors and other service providers who could bring her project to life, it wasn't an easy undertaking. But, it was indeed a passionate one.
"It's not common that you build a log cabin indoors, so the materials are made for the outdoors and were very pricey. With a new build it was near impossible to find materials within the budget," Dr. Fulford said. "We went through so many options."
Luckily, she found just the right people to build a team that could actually design and build Camp Little Tooth, including an architect who had previously done at least one thematic pediatric dentistry buildout centered on dinosaurs.
Dr. Fulford drew on the bucolic community where her practice is located to create the concepts behind Camp Little Tooth. She's also an outdoor enthusiast and the practice reflects her interests and personality. A staple of her design was dental chairs that replicate canoes, which she has facing a 38' x 20' custom-designed wall mural of the area's Grand Lake that Dr. Fulford commissioned from a local artist.
"It was important to me that I had canoes," Dr. Fulford said."When I wasn't able to find a dental supplier to create them, I searched online and found Tiny Town Studios. Not only did they create amazing canoes but they also built the treehouse."
Dr. Fulford tapped traditional dental manufacturers, too, for portions of the interior — the dental chairs outfitted with the canoes, for instance. "When I looked to find a supplier, I went with Benco Dental because of their showroom, where I was able to view all of the equipment in person. That sold me. So, I went with them, and they were great."
Unfortunately, some of Camp Little Tooth's experiential features — the treehouse and the iPads station — had to be shuttered for safety during the COVID-19 pandemic that struck last spring.
"The rest of it I was determined would be the exact same experience," Dr. Fulford said. "We've been able to tailor the experience so that campers can still enjoy camp while keeping safety a top priority."
Would you like to share this article?
Camp Little Tooth Before and After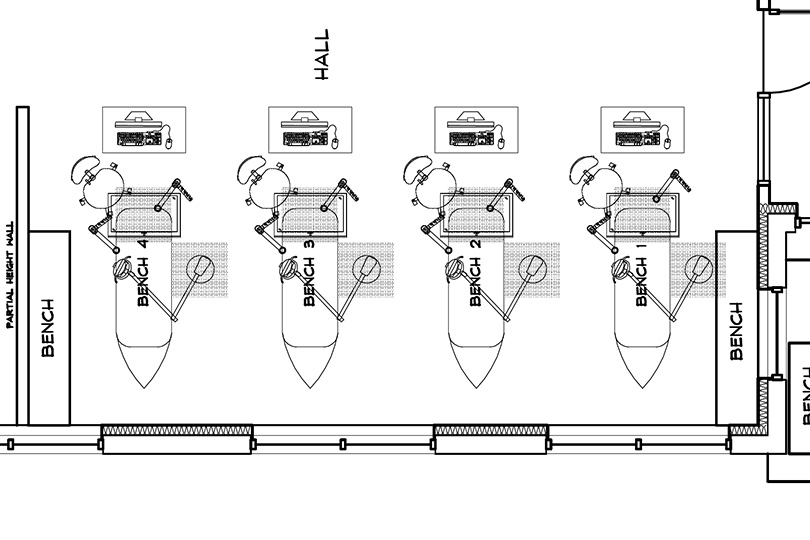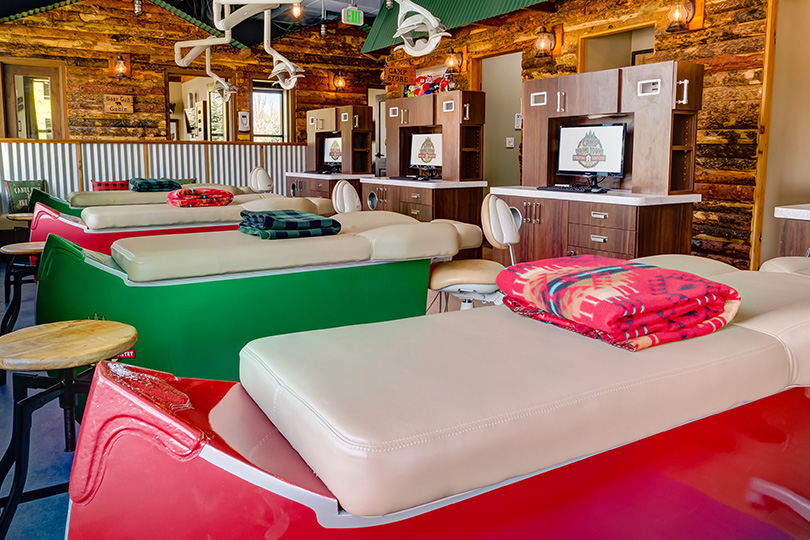 Other Award Winning Designs
All
New Build
Remodel
Bonus Webinar: 2019 Winners