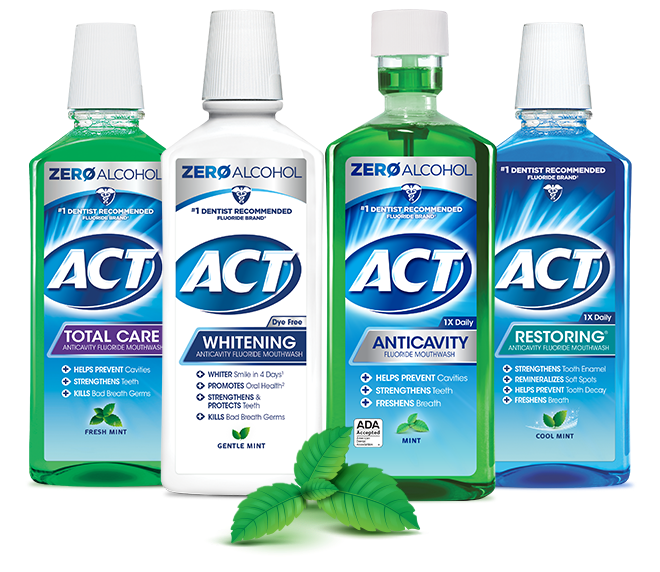 Adult Products
ACT® has a full line of fluoride-powered anticavity mouthwashes for your adult patients that help prevent dental caries and make teeth up to 4x stronger.*
According to the CDC, 91% of adults over the age of 20 have had dental caries.1 Help ensure your patients are getting the fluoride they need to prevent dental caries and protect teeth with the #1 Dentist & Hygienist Recommended Fluoride Brand.† ACT® anticavity rinses are safe, gentle and formulated with the maximum concentration of fluoride available without a prescription.‡ The pH-balanced sodium fluoride formula remineralizes teeth and protects them from acid erosion. Get access to free coupons, sample offers and patient materials today!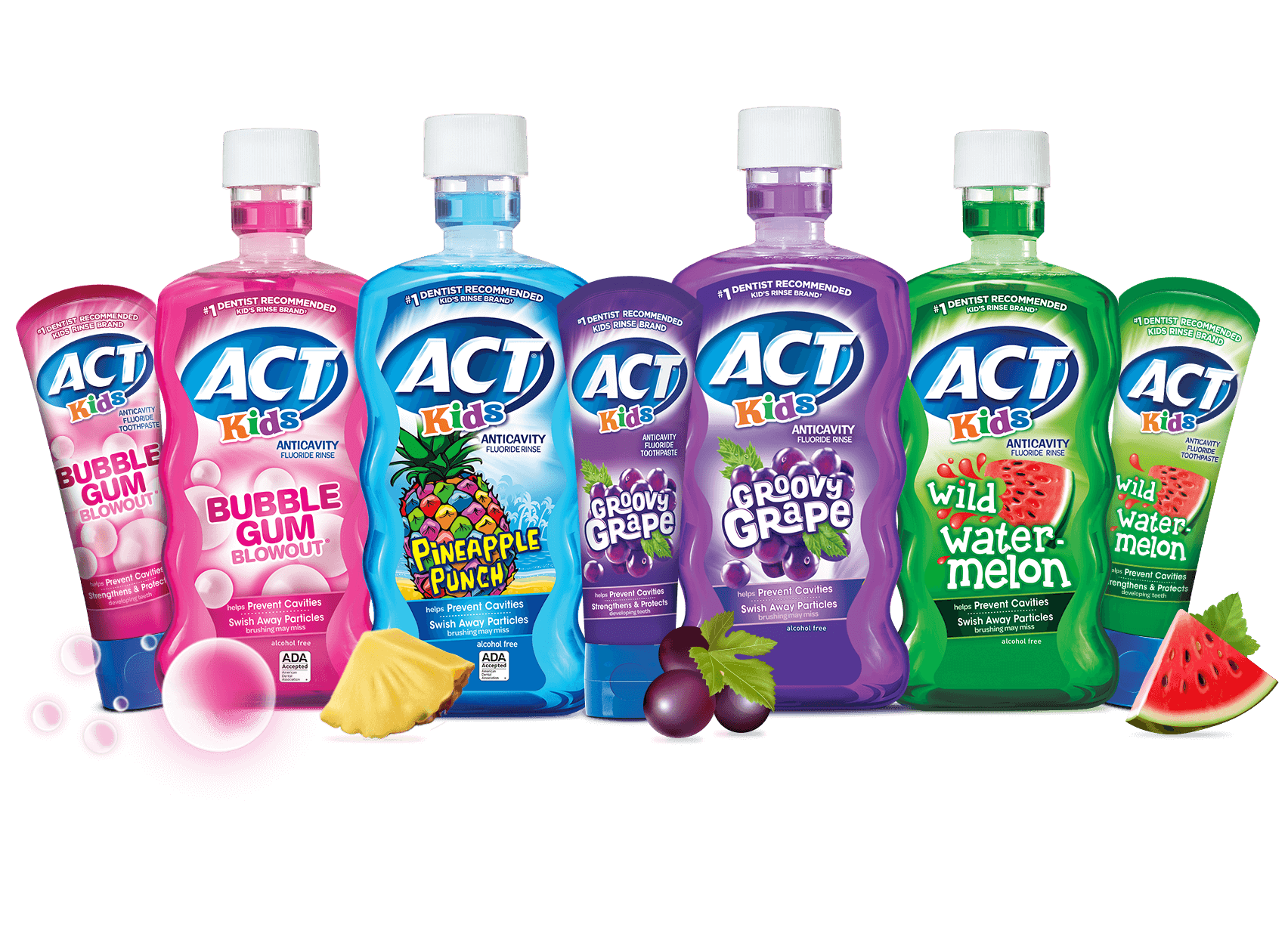 Kids Products
As the #1 Dentist & Hygienist Recommended Kids Rinse Brand†, ACT® has great-tasting complementary flavors of anticavity mouth rinses and toothpastes to help protect and strengthen teeth.
FACT: More than 45% of American children between the ages of 2 and 19 experience tooth decay in their permanent teeth.2 ACT® knows it's important to develop healthy dental routines at an early age - that's why they offer a full suite of easy-squeeze fluoride rinses for ages 6+ to help prevent 40% of future cavities3 and build up to 4x stronger teeth.* In addition to brushing and flossing, your pediatric patients can get healthier, happier smiles by rinsing for just 1 minute, 1x a day, making it easy for kids to incorporate ACT® into their daily routine. And, for ages 2+, ACT® also offers matching anticavity toothpaste flavors kids love, but cavities don't. Get helpful patient resources and coupons today!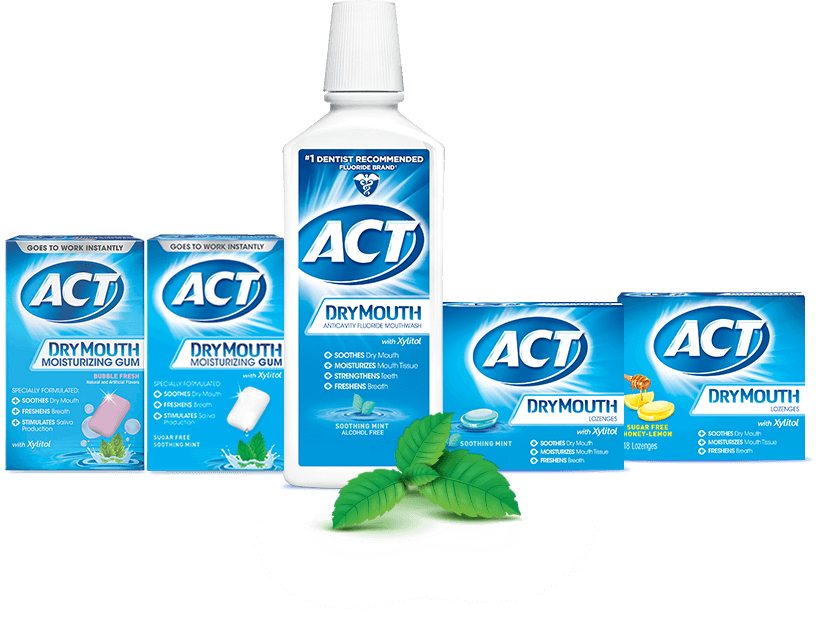 Dry Mouth Products
Recommend ACT® Dry Mouth Anticavity Mouthwash for soothing comfort, preferred taste** and fluoride protection.
Over 500 medications list dry mouth as a common side effect. Your patients may be experiencing symptoms but may not be aware that the decrease in saliva puts them at greater risk of tooth decay. ACT® Dry Mouth Anticavity Mouthwash contains 2 hydrating polymers and 7 effective moisturizers to relieve dry mouth symptoms. It's also formulated with sodium fluoride to help prevent dental caries and strengthen teeth. Dry mouth sufferers also prefer the taste of ACT® Dry Mouth Anticavity Mouthwash over Biotène® Dry Mouth Oral Rinse**. Recommend ACT® mouthwash for at-home use, or for comfort on-the-go, patients can enjoy great-tasting lozenges and chewing gums††. Find more information on dry mouth and how you can help with ACT® today!
Xerostomia causes offer clues on ways to manage it
An estimated 10% of the general population experience the persistent oral dryness of xerostomia, and more than 25% of elderly population struggle with daily oral dryness.1-5

Some of the common symptoms of xerostomia include:
trouble tasting, chewing, swallowing or speaking;
a sticky, dry feeling in the mouth or throat;
cracked lips;
a dry, rough tongue;
mouth sores; and
burning in the mouth or throat

6
Medication use is the most common cause of dry mouth. More than 500 common prescription drugs cite dry mouth as a side effect. Conditions such as diabetes, Sjögren's syndrome and other autoimmune diseases can cause xerostomia, as can such treatments as radiation and chemotherapy. 5
Xerostomia can lead to gingivitis, caries7 and bad breath.
To help make patients experiencing xerostomia more comfortable, there are rinses available that contain hydrating oral moisturizers and fluoride to help combat development of caries.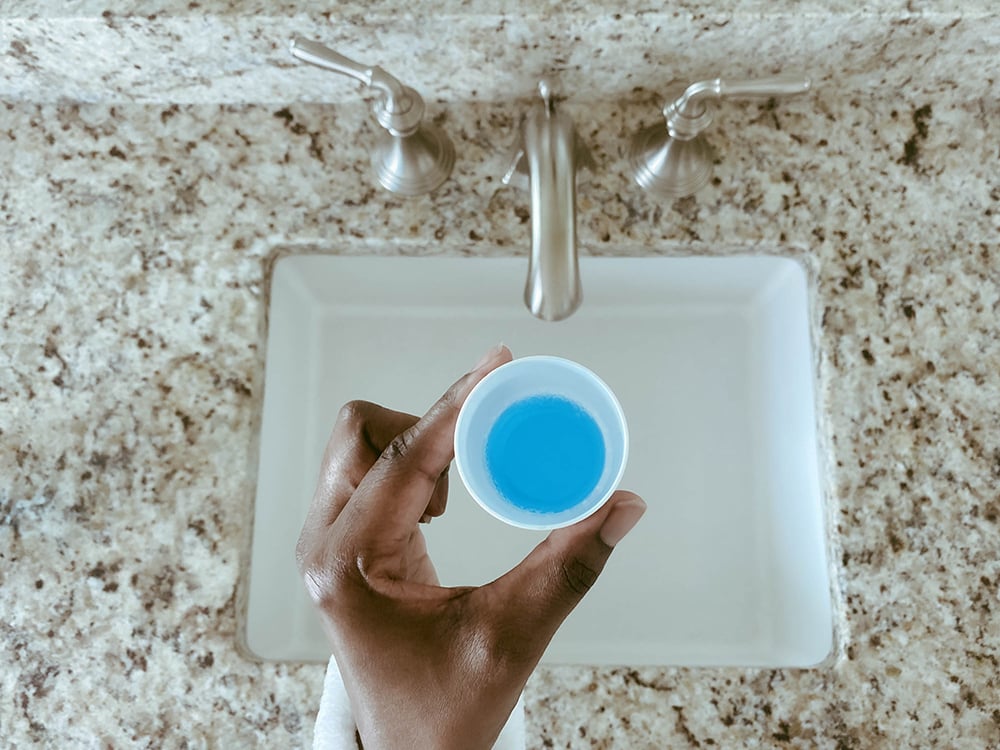 Managing dry mouth

This useful resource from ACT® offers tips for comfort and care for patients coping with xerostomia. About 10% of the general population experience persistent oral dryness and over 25% of the elderly struggle with daily oral dryness.
Quick facts: xerostomia

This practical patient information sheet from ACT® offers your patients facts about xerostomia, its causes and a few ways to manage common symptoms.
How to help patients between hygiene appointments
The COVID-19 pandemic underscores the importance of a good home-care regimen that includes brushing (twice a day), cleaning between teeth (daily) and finishing with a fluoride mouth rinse to deliver fluoride in places brushing may miss.

The primary goal of a diligent home-care practice is to disrupt development of plaque to prevent tooth decay, according to Daniel Rodda, D.D.S., owner of Oasis Dental Care in Flagstaff, Arizona, in an article published by Healthline.
Some tactics to coach your patients include:
consider using an electric toothbrush;
brush twice a day;
clean between teeth once a day;
and use a fluoride mouth rinse to strengthen teeth, help prevent cavities and deliver fluoride in places that brushing may miss.
"The oral microbiome is a key component of the immune system," Mark Burhenne, D.D.S., founder of AsktheDentist.com, told Healthline. "Mouthwashes high in alcohol or toothpastes with bactericidal components in them, like triclosan or other antibacterial ingredients, can greatly disrupt the health of the oral microbiome."
Mouth Healthy, from the American Dental Association, also has patient educational materials, including this video on brushing teeth.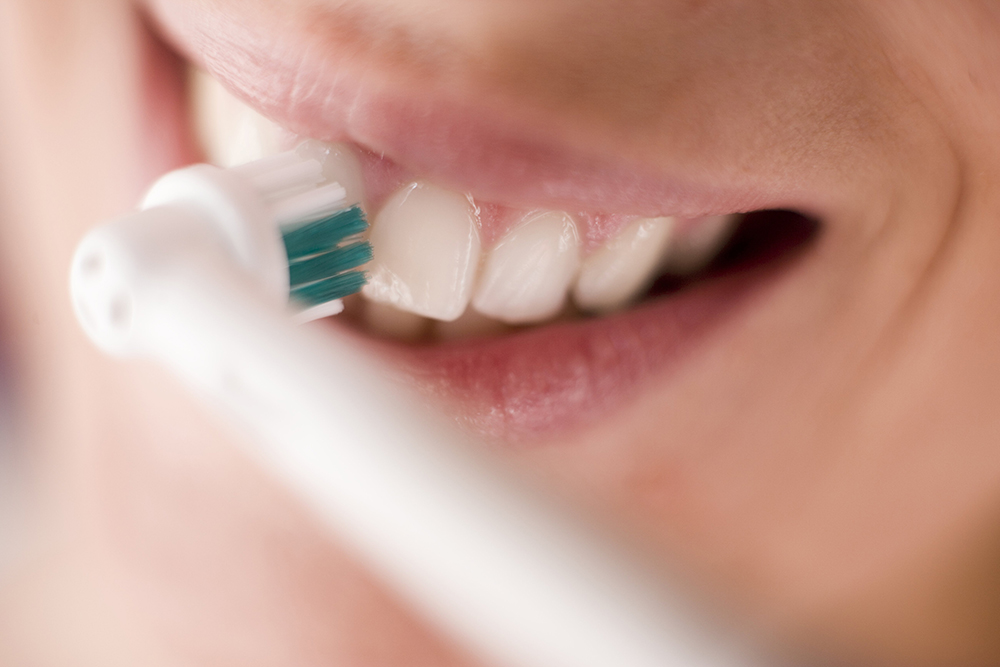 Patient homecare tips

Consistent homecare between dental visits is a key to maintaining good oral health. This downloadable resource from ACT® offers patients tips to help prevent tooth decay between dental visits.

Why adults need fluoride

As we age, the risk of getting cavities increases. Getting enough fluoride is essential for helping to combat cavity-causing culprits.
Fluoride facts

Over time, the foods you eat, dental work and conditions like dry mouth increase your chances of getting a cavity. That means fluoride is essential to dental health as you get older.
Swish with these fluoride resources
Fluoride clinical guidelines
These ADA guidelines were created to aid dental professionals in clinical decision making and help incorporate evidence gained through scientific investigation into patient care.
Fluoride mouth rinses
Water fluoridation is not the only form of fluoride delivery that is effective in preventing tooth decay in people of all ages, according to the Centers for Disease Control and Prevention.
This resource offers an overview of fluoride mouth rinses.
ADA Seal of Acceptance
The ADA Seal of Acceptance program is a gold standard in evaluating efficacy and safety of dental products. This resource offers a listing of products earning the ADA Seal of Acceptance.
ADA public programs: Fluoride in water
A bevy of fluoride topic resources from ADA that explores water fluoridation programs and the benefits of fluoride to reduce tooth decay.
Fluoride: topical and systemic supplements
Oral Health Topics is a section on ADA.org that explores clinically relevant and evidence-based science. This extensive resource reviews topical and systemic supplements of fluoride and offers members easy access to guidelines, ADA policies and other resources.
Study examines fluoride levels in bottled water
PracticeUpdate (registration required): Analysis of 92 different brands of bottled water revealed that only 2 contained >0.7 ppm fluoride, the concentration added to commercial public (tap) water for optimum caries prevention.
Topical fluoride with education effectively prevents root caries
PracticeUpdate (registration required): The adoption of effective root caries prevention strategies by the dental profession coupled with public education can reduce the incidence of root caries.
Innovations: New community water fluoridation system is 'game-changer'
Sodium fluorosilicate tablet system, a community water fluoridation system considered the first advancement in water fluoridation technology in decades, recently received NSF Standard 61 approval.