Finalist - Remodel
Dunstan Dental Center
Scarborough, Maine
by Stacie Crozier
For Nichol Penna, D.M.D., remodeling the dental office her parents opened in 1986 was a study in preserving the character of one of Scarborough, Maine's 1940s-era structures, honoring her parents' vision and fine tuning the building's function and esthetics to make it the dental office that embodied her and her husband's style.
The building was first a local burger joint during the 1940s and '50s. In the 1970s, the humble diner was given a big makeover — a large, vaulted addition was added, and the space became a steakhouse. In 1986, Dr. Penna's parents, Demitroula Kouzounas, D.M.D. and Joseph G. Penna, D.M.D., purchased the building, and transformed the main dining room of the steakhouse into a spacious dental office of nearly 2,400 square feet. The vaulted wood ceilings that were the hallmark of the original steakhouse design were kept in the original build, a 2009 remodel and are still showcased in the roomy, refreshed waiting area today.
In 2010, Dr. Penna joined her parents' practice, Dunstan Dental Center, immediately after graduating from Tufts University School of Dental Medicine. Her husband, Douglas Delli Colli, D.M.D., joined the practice in 2013. By 2016, Dr. Penna and her father were co-owners of the practice. In January 2020, she and her husband became the owners, continuing the family-first focus of the practice. Dunstan Dental Center currently has six dentists, including Dr. Penna's parents, five hygienists, six assistants and six front office team members, plus the practice's long-time mascot and social media icon, Chucky the turtle.
Dr. Penna and Dr. Delli Colli planned the remodel to resolve a couple of pain points that disrupted the flow of traffic in the office for staff and patients and to have it better reflect their style and taste.
"The floor plan had one radiography room that housed both the panoramic and traditional radiographic units," Dr. Penna said. "So, it could be a big hiccup in your day if you had to wait to get a radiograph for an emergency patient because there could be multiple hygiene patients lined up for routine X-rays. That was one of the big motivations for planning a remodel."
Now the space has three separate radiography rooms — two with traditional units and one for the panoramic unit. With three rooms, no one's workflow is slowed down waiting for a chance to take a radiograph.
Dunstan Dental Center Image Gallery
The natural wood ceiling is allowed to shine now that it doesn't have to compete with the natural wood at the front desk and on the floors.
Dr. Penna
Dr. Penna's other personal "pet peeve" was having the hygiene sterilization area in a hallway that patients had to walk by. "It was noisy and not very aesthetically pleasing, and it could have been a safety issue if a patient happened to touch or brush against something."
Today the office has one enclosed central sterilization center that has improved the flow of instrument processing as well has improved the patient experience by eliminating the unsightly hallway area. The practice also added metal cassettes and two SciCan HYDRIM automated instrument washers to improve cleaning ability and speed up drying time.
Planning the remodel required Dr. Penna to put her wants, needs and vision down on paper and then to work with an architect/interior designer and a project manager to hammer out the details. "We interviewed several designers and chose Deirdre Pio of Gawron Turgeon Architects, P.C. She was wonderful to work with. She was flexible, levelheaded and open to considering a variety of options."
Ms. Pio made sure they were OK with planning to remodel a building that was constructed in stages over the past 70+ years, rather than building a new office from scratch. "The existing building had its challenges. It's not perfect or level everywhere," Dr. Penna said. "But our location is great, and we are in a strip mall that my father has owned since 1986—he is our landlord—so I'm happy we decided to remodel."
Ms. Pio maximized the practice's updated corporate identity by using the colors of the new practice logo that Dr. Delli Colli designed with help from an expert about a year before the remodel. Ms. Pio incorporated pops of blue, raspberry and mint from the logo into the final design and commissioned a large acrylic 3-D logo for the waiting room wall, pulling the new design together seamlessly.
Dr. Penna had a unique design challenge to tackle as well. Her younger brother Joseph's pet turtle, Chucky, a gregarious red-eared slider, has been a part of the front office team since 2009, when her mom, Dr. Kouzounas, brought him to the office. Joseph was growing up and spending more time in school activities, and the sociable, semiaquatic creature needed more human interaction. Chucky has been enchanting patients and loving their attention for more than a decade from a habitat they built for him, inset into a brick wall in the reception and waiting room area. Dr. Penna's remodel included enclosing the exposed brick around the tank and making the walls white with molding detail—a design feature that was mirrored throughout the office.
"Chucky is a social media star, and we knew we'd have to keep the turtle tank. He's close to 20 years old, and his lifespan is 30+ years, so he still has lots of life left. He's very interactive with people. He wants to see people and he will follow a finger or take turtle treats from patients."
Dr. Penna was afraid that the project might make her parents feel that she was slighting their design style when making aesthetic updates like covering brick walls or changing flooring and colors. But since it was during COVID, everyone realized that a cleaner style was not only more contemporary but also easier to keep everyone safe. And they liked the enhanced flow of the office.
"We achieved our overarching goal of increasing efficiency in our space," she said. "In the waiting area we removed the wood paneling from the reception desk to create a more open, lighter aesthetic. We covered the exposed brick with white walls and removed the overabundance of natural wood. The natural wood ceiling is allowed to shine now that it doesn't have to compete with the natural wood at the front desk and on the floors. Our new flooring is beautiful and durable, too."
Would you like to share this article?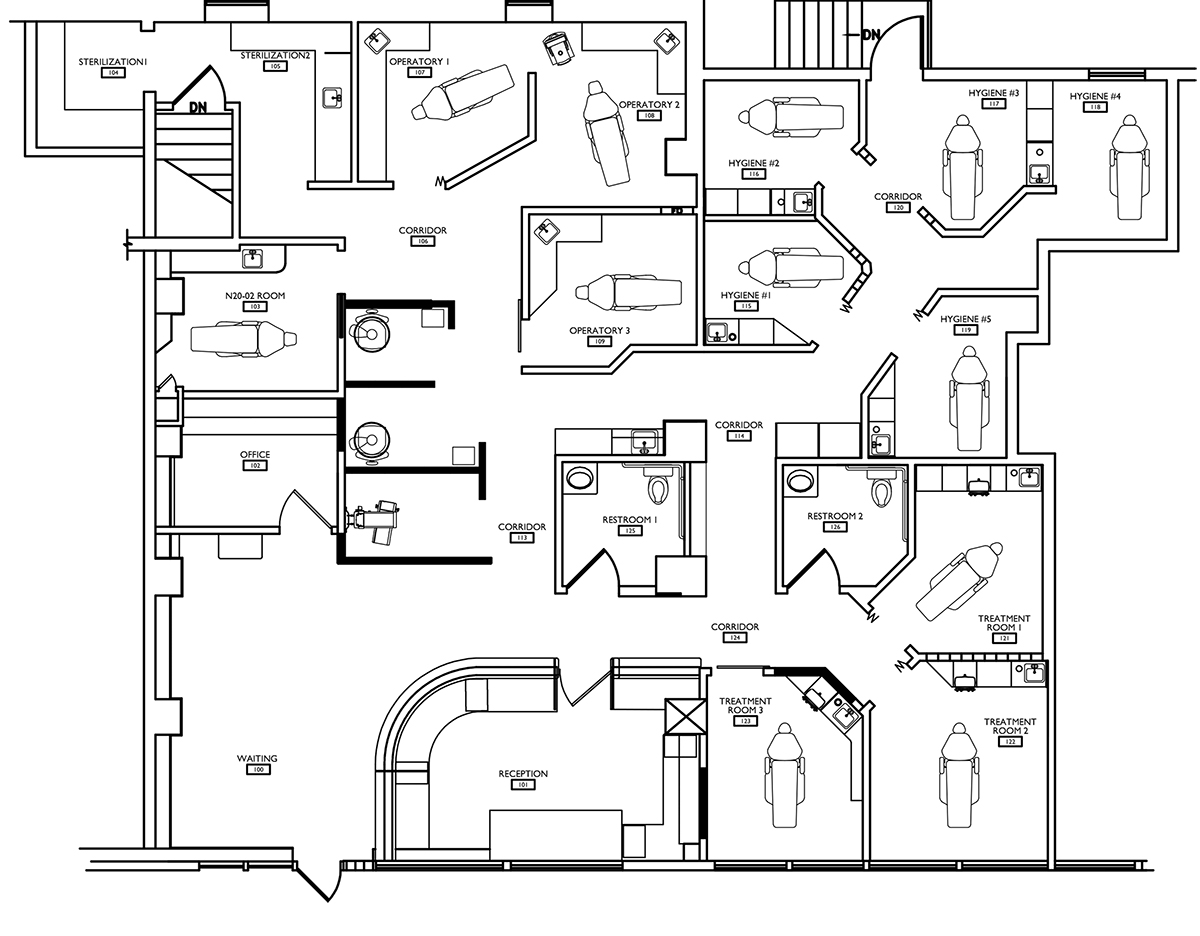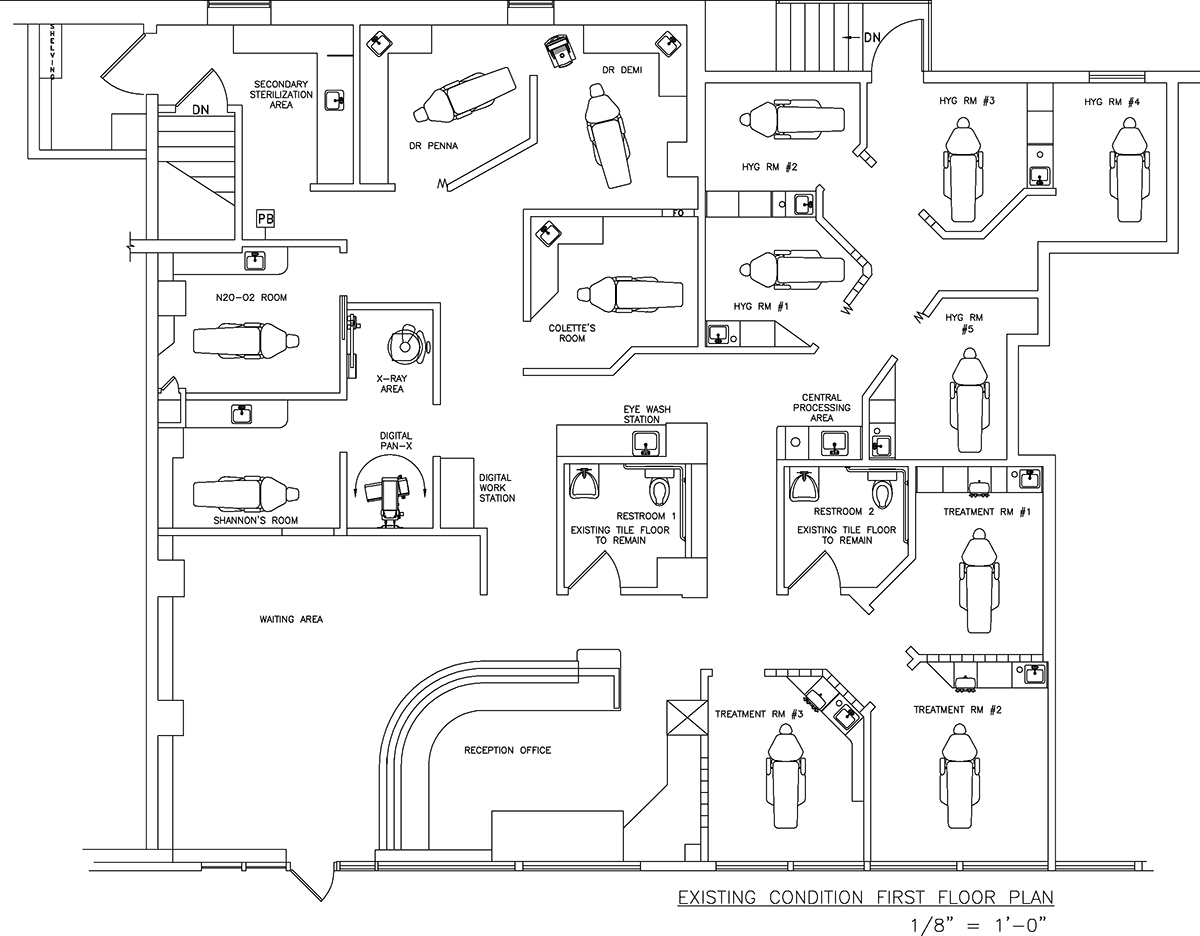 2021 Award Winning Designs