by Jean Williams
A leaky roof can rain on your parade — and the inside of your practice — even in the best of times. In the worst of times, a deluge of additional challenges might find you swimming fast to keep it all above water.
This is how Dr. Brian Fitz, a general dentist with a family practice – New Image Dental – in Streamwood, Ill., began the spring of 2020. He was coming off a pretty murky 2019 with hopes to reach higher ground in 2020.
"Oh, my goodness!" he said, "2019 was very topsy-turvy. I was expecting 2020 to go easier, and 2020 ended up being more difficult than 2019."
He had been contending with a leaky roof and some fundamental shifts in his business. "There have been so many things that have been changed, it's hard to remember everything," Dr. Fitz said. "I ended up changing accountants, and I ended up changing staff."
Then, of course, the COVID-19 pandemic struck the U.S. in early 2020, just before spring set in — at the same time Dr. Fitz was tackling repairing the roof and refreshing his practice's interior. Patient volume dropped when most dental practices started seeing only emergency patients from mid-March until mid-May and then began to rebound for the rest of 2020. According to the ADA Health Policy Institute's Jan. 18 survey, nearly 43% of dental practices report having normal patient volume, but 56% are open but still seeing a lower than usual patient volume.
2019 was very topsy-turvy. I was expecting 2020 to go easier, and 2020 ended up being more difficult than 2019.
Dr. Brian Fitz
Dr. Fitz made necessary adjustments to his practice in order to weather it all. He had secured a loan from BMO Harris Bank to make practice repairs and upgrades. His solo practice has five operatories, a full-time hygienist and several part-time hygienists who come in as patient volume warrants. The bank refinanced his existing practice loan and also initiated a new loan for the roof renovation and the interior remodeling project.
Dr. Fitz found the bank to be like a lighthouse throughout the transition. He speaks highly of his lending experience and his BMO Harris representative in the practice finance division.
"My BMO Harris representative ended up working a little bit at the start with my old accountant, and then he started working with my new accountant," Dr. Fitz said. "He helped make the transition go well. That was nice."
Having expert guides — including his accountant on the outside and his representative on the inside — was essential during such upheaval.
Dr. Fitz found the bank to be like a lighthouse throughout the transition. He speaks highly of his lending experience and his BMO Harris representative...
Dr. Fitz's practice is located in a business condominium building with three units. "It's a fairly small building," he said. "It used to be a 7-Eleven that was re-converted about 30 years ago into a dental office and an insurance agency office. My portion was renovated."
Repairing the roof entailed cooperating on the project with one of the other condominium owners. "One of them shares the same roof as I do, and one of them does not," Dr. Fitz said. "And the one that shares the roof with me, we ended up having to come to an agreement about having the roof done."
Aside from the new roof, Dr. Fitz beautified the interior, making his own design plans and choices. "There had not been a major renovation in about 20 years or so," he said. "We ended up putting up a rock wall in the entryway and another rock wall behind the front desk. I put in new cabinets and countertops and ceilings and lighting. It was a pretty big change from what it was. It was a big makeover."
He also replaced flooring in his office. The project took about nine months from start to finish. If there were a silver lining to the pandemic, it could be that the timing eased the roof construction and makeover due to fewer patient appointments that spring.
Dr. Fitz said he had already chosen surfaces well suited for optimal infection control before the renovation, COVID-19 notwithstanding. "A lot of that was done before, which was good because we went with countertops that could be more easily disinfected," he said. "With COVID, we ended up adding a lot of air purifiers and a lot of PPE."
Dr. Fitz is most pleased, he said, by patients' complimentary reactions to the renewed space. "It makes them feel good," he said. "That's a great, great plus of doing the renovation."
With so much rough weather behind him, Dr. Fitz is looking forward to the future when patient volume is back to pre-pandemic levels and when he can resume his plans to take more continuing education courses and add new services to his practice.
For more information about BMO Harris Bank, and the .5% point discount ADA Members are eligible for, visit www.bmoharris.com/dentists. To learn more about other ADA Member Advantage-endorsed companies, visit www.adamemberadvantage.com.
Would you like to share this article?
Other Award Winning Designs
All
New Build
Remodel
Bonus Webinar: 2019 Winners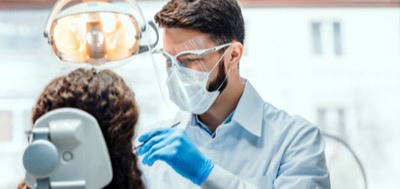 Ergonomic tips for PPE use during COVID-19
From experiencing headaches and dry mouth to overheating under layers of personal protective equipment, Manish Chopra, B.D.S., D.M.D., is familiar with the discomfort dentists are experiencing during the COVID-19 pandemic.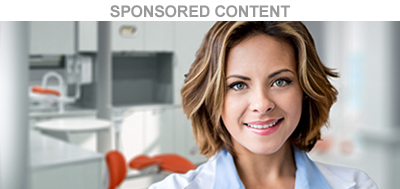 Keys to choosing the right dental equipment
The right dental equipment increases your comfort, productivity, and ultimately, success. The What to Look for When Buying Dental Equipment guide was created using input from doctors, dental industry experts, dealers and technical specialists.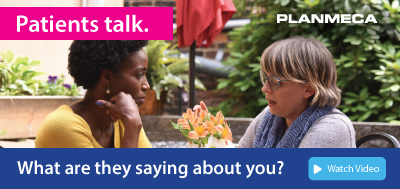 Patients talk. What are they saying about you?
Patient referrals are more important than ever. Patients are sharing both positive and negative experiences with their friends and family. If they are not delighted with your services, you're missing an opportunity for increased patient referrals.