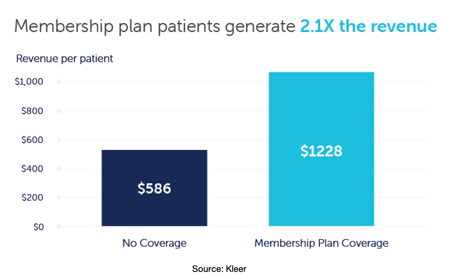 Join us for this presentation to learn 5 reasons why a dental membership plan is a powerful tool that should be implemented now.
Dental coverage and patient mindset have dramatically changed due to the COVID-19 crisis. Prior to the crisis, 100 million U.S. adults were without dental benefits, and this will grow to over 130 million due to COVID-19 job losses. It is estimated that in our new reality, one out of two patients will not have dental coverage, a significant shift for dental practices.
There is risk in having more uncovered and price-sensitive patients, as statistics show uninsured patients visit the dentist three times less often than insured patients and accept less than half the treatment. Although this seems like bad news, it presents a big opportunity for forward-thinking dentists to offer better care to their uninsured patients through a subscription-based direct care model—breaking free from insurers while more than doubling the value of their uninsured patients.
Attend this webinar to:
Understand why your practice should establish a membership plan now
Learn more about the mindset and preferences of your uninsured patients
Explore the ways a subscription-based direct care model can help you break free from the costs and hassles of insurance and offer better care options to your patients
Review data that shows how a well-designed and priced membership plan will improve uninsured patient visits and production
Take away best practices for implementing a high-performing membership plan